We Know Real Estate.
---
Request our complete guides, free! You'll receive top down picture of nearly everything you need to consider as a real estate buyer or seller in any market. Get more informed by requesting our guides below!
YOU'LL LEARN
1. Top 10 things you need to know before selling your home, including tips for low cost improvements for a better selling price
2. Discover how you know when it is right to make that repair, and knowing when and how to invest in your house
3. A complete step by step breakdown of real world facts VS real estate reality TV shows, comparing and contrasting the differences
4.The Seven Steps to Owning a Home, and how to maximize the success of your transaction every step of the way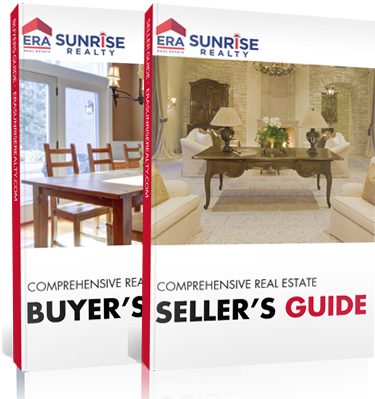 Download the guides below or ask a question and we'll answer promptly!
---
Contact our team


Comprehensive Real Estate
Comprehensive Real Estate
Buyer's Guide


Comprehensive Real Estate
Comprehensive Real Estate
Seller's Guide
SEE WHAT OTHERS ARE SAYING
---
"She is very knowledgeable very nice and always ready to help you, best tips on the area to tips on what to look for your home. Very organized, will keep any information in your comments about a house in case you forget and wanted to revisit, she would have all sort if information a very friendly positive down to earth person, always have a smile in her face so every time you meet Her to see properties, it would make an unforgettable experience for you, she made the search for our house a fun positive nice experience. The best real estate agent I ever worked with, heard of or seen around."
"Our agent "was very professional and always was there to answer any questions we had. I would recommend him to anyone."
"Our agent "was professional and always had our best interest in mind. It was a pleasure working with her."
"Our agent "has proven to be an excellent agent. She is diligent, knowledgeable, persistent and has a fantastic attitude. She will not stop until she finds you your perfect home! I did not choose her, she was chosen for me by a home buyers program my bank offered. I give my agent and ERA Sunrise Realty my highest recommendation. If there is one person you want in your corner when finding a home its her"
"... is a great agent and I would recommend her to anyone in a heartbeat. She is fantastic."
L. Jones
Powder Springs, GA
"He guided and kept us very informed during the entire process. Super nice guy."
Nov. 2014 Client
Canton, GA
"Our agent "is very knowledgeable and very easy to work with."
"Easy and quick, I had been looking for a house for a year with a different company. Carl found my house within the first week! Thank you…!"
"Our agent "went above and beyond his duties. He was a great help!"
"Our agent "is the best real estate agent anyone could ask for. She was my son's realtor over two years ago and worked exceptionally well. I could not have asked for a more dedicated realtor. She went out of her way to make sure I found the home that was meant for me. I can't thank her enough for all she did and continues to do. Thank you…"
"Our agent "is a caring realtor who takes her client's interest at heart. She kept me informed of impending problems and offered positive advice. She established a positive relationship with her USAA Mortgage counterpart to speed the approval process. I would definitely recommend her to my friends and family."
"Our agent "was the most humble, consistent, kind, and professional agent I have ever worked with. I would recommend him to anyone, hands down."
"Great follow up. Always kept me informed. Stayed on top of everything during the whole process."
"Our agent "has gone above and BEYOND all expectations we had. She has been an incredible advocate for our family and has impressed us with her laser sharp attention to detail. We appreciate her extraordinary efforts in helping us sell and buy a home, and we would recommend her in a heartbeat. She is truly exceptional!"
"Great agent. She knows her product and market quite well. Her knowledge and experience was just what we needed during this transaction. She is a professional and we would recommend her to highly."
Deborah A.
Sugar Hill, GA
"Our agent "worked diligently for us through a very complicated purchase. Always with a prompt response and a great attitude, regardless of the delays by a long distance seller.""
"Our agent was super, fast and efficient, the team was very friendly and helpful when our agent was out of town. Our house sold so fast we are still amazed."
"My agent was very good in helping me hold the seller accountable to the commitments they make, even though that resulted in a contract being terminated on our first go-around. She did the same on the second, and successful, go-around.

 "
"My agent was outstanding. Very professional and experienced. Great realtor. I would recommend her to anyone seeking to buy a home."
"My agent is wonderful! Very helpful and friendly. Best agent I've ever worked with! Will definitely recommend!

"
"Very proactive and kept me updated with all information."