Giving Back To YOU!
Our giving is a reflection of YOU, our clients and agents, who make up the communities we serve. Giving back has been an important part of ERA Sunrise Realty culture since the company was founded in 1991 as Sunrise Realty before joining the ERA family in 1994.
Inspired by personal stories, giving helps us know you better while honoring YOU.  Let us help tell your story and help raise awareness and contributions… get started when you contact us today.
National Giving   |   Local Giving   |   Agent Favorites   |   How Can We Help YOU?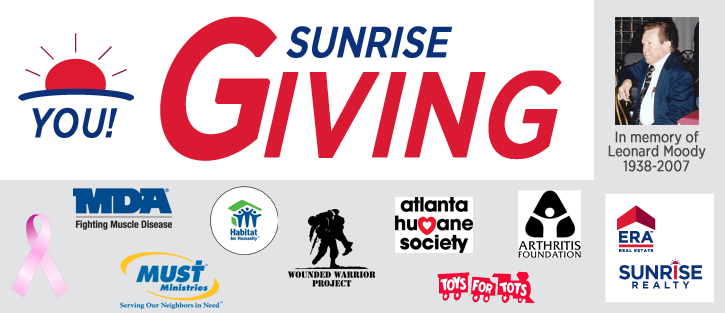 National Giving
Few families go through more life transitions than those who serve in the United States Army, Navy, Air Force, Marines or US Coast Guard. ERA Sunrise Realty is an official Realogy MILITARY REWARDS Network broker and proud to serve Military families. In addition to caring and expert service provided by experienced agents, veterans and active military will
We offer YOU turnkey relocation services whether you are moving across town, across the country or overseas. If you serve or have served in the US Military we are ready to serve YOU.

Local Giving
Many of us at ERA Sunrise Realty have children whom you have directly served and we have YOU to thank for what is vital to our local communities and the future of our nation. Our way of thanking YOU is through our Hometown Heroes program where YOU can also save thousands when buying or selling a home.
Whether moving across town or relocating to Georgia, please find out how much we can save YOU Contact Us About Hometown Heroes Benefits
Agent Favorites
The personal risks YOU take in protecting our community, business and personal lives inspire us to offer YOU special benefits whenever you decide to buy or sell your home. ERA Sunrise Realty recognizes and thanks you for the work you do every day to help maintain order and prevent crises in our communities.
YOU deserve to save thousands when buying or selling a home. How much YOU save varies based on the price paid for your home Contact Us About HEROES Benefits
How Can We Help YOU?
There are extraordinary heroes among us who quietly serve others and our environment. Some of these folks truly are "Hometown Heroes" and we have created a program for you to nominate these deserving citizens for recognition and Hometown Hero benefits!
Hometown Hero's stories will be told on our website!  Publicly Nominate A Local Hero or Anonymously Nominate A Local Hero
Spiritual & Non-Profits
ERA Sunrise Realty has a special program for members of qualifying non-profit organizations. Request more information about how your organization may qualify for direct benefits and extended benefits for organization members and employees.
Learn More
To learn more about any of our HERO'S programs, just let us know. ERA Sunrise Realty looks forward to hearing YOUR STORY and will be honored to serve you!
Start Exploring Communities Below… or Contact Us
---
Community Guides are a great way to get a feeling about what it might be like living in your new neighborhood.  If you don't see the community your interested in, just contact us and we will provide you with everything you need to know.
EXPLORE COMMUNITIES BY AREA
North Metro Atlanta
Northwest Cobb County
Vining's-Marietta Cobb
Northeast Metro Atlanta Gwinnett
North Fulton & South Forsyth Counties
Greater Athens Area
North Georgia Mountains
EXPLORE INDIVIDUAL COMMUNITIES
Athens Area – Carrington Plantation Athens GA
Athens Area – Five Points Athens GA
Athens Area – Lane Creek Plantation, Bishop GA
Athens Area – Reynolds Plantation, Greensboro, GA
Athens Area – The Georgia Club, Statham GA
Athens Area – Putters Homes Athens, GA
Athens Area – Timber Creek Athens, GA
Northwest Metro Atlanta – Atlanta Country Club, Marietta GA
Northwest Metro Atlanta – Christopher Robbins, Marietta GA
Northwest Metro Atlanta – Churchill Downs, Smyrna GA
Northwest Metro Atlanta – Indian Hills Country Club, Marietta GA
Northwest Metro Atlanta – Legacy At the River, Mableton GA
Northwest Metro Atlanta – Providence, Mableton GA
Northwest Metro Atlanta – Vinings Estates, Mableton GA
Northwest Metro Atlanta – Barrett Greene, Kennesaw GA
Northwest Metro Atlanta – Bentwater, Acworth GA
Northwest Metro Atlanta – Brookstone Golf and Country Club, Kennesaw GA
Northwest Metro Atlanta – Brookstone, Acworth GA
Northwest Metro Atlanta – Camben Pointe, Acworth GA
Northwest Metro Atlanta – Governors Towne Club, Acworth GA
Northwest Metro Atlanta – Heritage Club, Kennesaw GA
Northwest Metro Atlanta – Legacy Park, Kennesaw GA
Northwest Metro Atlanta – Ridenour, Kennesaw GA
Northwest Metro Atlanta – Saddlebrooke Farms, Kennesaw GA
Northwest Metro Atlanta – Vineyards of Kennesaw, Kennesaw GA
North Metro Atlanta – Bridgemill, Canton GA
North Metro Atlanta – Great Sky, Canton GA
North Metro Atlanta – Harmony On the Lakes, Canton GA
North Metro Atlanta – Shoals At Arbor Hill, Canton GA
North Metro Atlanta – Soliel At Laurel Canyon, Canton GA
North Metro Atlanta – Woodmont Golf and Country Club, Canton GA
North Metro Atlanta – Lake Arrowhead, Waleska GA
North Metro Atlanta – Hawks Ridge, Ballground GA
North Metro Atlanta – Towne Lake Hills, Woodstock GA
North Metro Atlanta – "Woodstock Downtown", Woodstock GA
North Metro Atlanta – Kingsley Estates, Alpharetta GA
North Metro Atlanta – Wedgewood, Alpharetta GA
North Metro Atlanta – Avensong, Milton GA
North Metro Atlanta – Blue Valley, Milton GA
North Metro Atlanta – The Highlands, Milton GA
North Metro Atlanta – The Manor Golf and Country Club, Milton GA
North Metro Atlanta – White Columns Country Club, Milton GA
Northeast Metro Atlanta – Hamilton Mill Golf Club, Daculs GA
Northeast Metro Atlanta – Riverbrooke, Duluth GA
Northeast Metro Atlanta – Sugarloaf Country Club, Duluth GA
Northeast Metro Atlanta – Country Club Of the South, John's Creek GA
Northeast Metro Atlanta – Spalding Mill, Peachtree Corners GA
Northeast Metro Atlanta – Chateau Elan, Milton GA
Northeast Metro Atlanta – Grandview, Suwanee GA
Northeast Metro Atlanta – Rivermoore Park, Suwanee GA
Northeast Metro Atlanta – River Laurel, Suwanee GA
North Georgia Mountains – Big Canoe, Jasper GA
North Georgia Mountains – Jordan's Crossing, Jasper GA
North Georgia Mountains – Riverstone, Jasper GA
North Georgia Mountains – Coosawattee River Resort, Ellijay GA
North Georgia Mountains – Blackberry Mountain, Ellijay GA
North Georgia Mountains – Bent Tree, Marble Hill GA
North Georgia Mountains – Arbor Hills, Talking Rock GA
Office Locations
---