Serving Real Heroes And Their Families
When YOU serve our country in the military or serve your local community as an educator, police officer, firefighter or paramedic YOU and your family make sacrifices that benefit everyone. We thank each of YOU for helping to maintain order, responding in times of crisis, fighting for the freedoms we enjoy, and for preparing our children to be good stewards of our planet and contributors to society.
YOU deserve a home you love to come home to! ERA Sunrise Realty and our diverse team of agents, many whom have served in the US military or have had careers in public safety or teaching, consider it an honor and privilege to guide and navigate you through the process of selling your current home…or buying a home to call your own..
Our Real Estate for Real Heroes program and team of expert Realtors® offer YOU special savings and our highest standard of service. For more information about HERO services, contact us today.
Military   |   Educators   |   Public Safety   |   Do YOU Know A Hometown Hero?   |   Spiritual & Non-Profits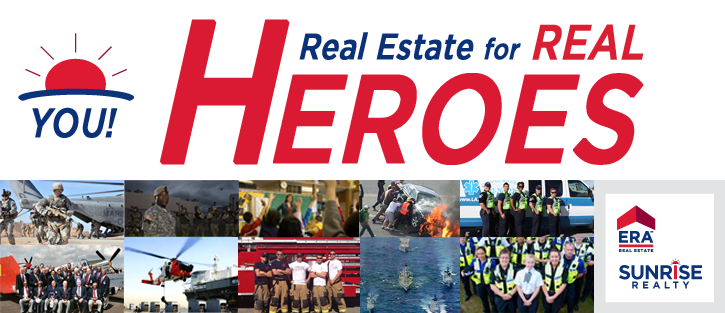 Military
Few families go through more life transitions than those who serve in the United States Army, Navy, Air Force, Marines or US Coast Guard. ERA Sunrise Realty is an official REALOGY MILITARY REWARDS Broker and proud to serve Veterans and Active Duty Military and their families.
We offer YOU turnkey relocation services whether you are moving across town, across the country or overseas. If you serve or have served in the US Military we will make sure you receive all benefits of the REALOGY MILITARY REWARDS program!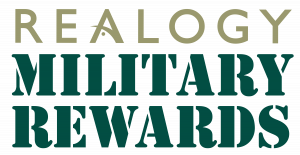 Educators
Many of us at ERA Sunrise Realty have children whom you have directly served and we have YOU to thank for what is vital to our local communities and the future of our nation. Our way of thanking YOU is through our Real Heroes program where YOU can also save thousands when buying or selling a home.
Whether moving across town or relocating to Georgia, please find out how much we can save YOU Contact Us About Real Heroes Benefits
Public Safety
The personal risks YOU take in protecting our community, business and personal lives inspire us to offer YOU special benefits whenever you decide to buy or sell your home. ERA Sunrise Realty recognizes and thanks you for the work you do every day to help maintain order and prevent crises in our communities.
YOU deserve to save thousands when buying or selling a home. How much YOU save varies based on the price paid for your home Contact Us About Real Heroes Benefits
Do YOU know a Real Hero?
There are extraordinary heroes among us who quietly serve others and our environment. Some of these folks truly are "Real Heroes" and we would like to share their stories with the community!
Tell us about a hero in your community here.
Learn More
To learn more about any of our programs, just let us know. ERA Sunrise Realty looks forward to hearing YOUR STORY and will be honored to serve you!
Start Exploring Communities Below… or Contact Us
---
Community Guides are a great way to get a feeling about what it might be like living in your new neighborhood.  If you don't see the community your interested in, just contact us and we will provide you with everything you need to know.
EXPLORE COMMUNITIES BY AREA
North Metro Atlanta
Northwest Cobb County
Vining's-Marietta Cobb
Northeast Metro Atlanta Gwinnett
North Fulton & South Forsyth Counties
Greater Athens Area
North Georgia Mountains
EXPLORE INDIVIDUAL COMMUNITIES
Athens Area – Carrington Plantation Athens GA
Athens Area – Five Points Athens GA
Athens Area – Lane Creek Plantation, Bishop GA
Athens Area – Reynolds Plantation, Greensboro, GA
Athens Area – The Georgia Club, Statham GA
Athens Area – Putters Homes Athens, GA
Athens Area – Timber Creek Athens, GA
Northwest Metro Atlanta – Atlanta Country Club, Marietta GA
Northwest Metro Atlanta – Christopher Robbins, Marietta GA
Northwest Metro Atlanta – Churchill Downs, Smyrna GA
Northwest Metro Atlanta – Indian Hills Country Club, Marietta GA
Northwest Metro Atlanta – Legacy At the River, Mableton GA
Northwest Metro Atlanta – Providence, Mableton GA
Northwest Metro Atlanta – Vinings Estates, Mableton GA
Northwest Metro Atlanta – Barrett Greene, Kennesaw GA
Northwest Metro Atlanta – Bentwater, Acworth GA
Northwest Metro Atlanta – Brookstone Golf and Country Club, Kennesaw GA
Northwest Metro Atlanta – Brookstone, Acworth GA
Northwest Metro Atlanta – Camben Pointe, Acworth GA
Northwest Metro Atlanta – Governors Towne Club, Acworth GA
Northwest Metro Atlanta – Heritage Club, Kennesaw GA
Northwest Metro Atlanta – Legacy Park, Kennesaw GA
Northwest Metro Atlanta – Ridenour, Kennesaw GA
Northwest Metro Atlanta – Saddlebrooke Farms, Kennesaw GA
Northwest Metro Atlanta – Vineyards of Kennesaw, Kennesaw GA
North Metro Atlanta – Bridgemill, Canton GA
North Metro Atlanta – Great Sky, Canton GA
North Metro Atlanta – Harmony On the Lakes, Canton GA
North Metro Atlanta – Shoals At Arbor Hill, Canton GA
North Metro Atlanta – Soliel At Laurel Canyon, Canton GA
North Metro Atlanta – Woodmont Golf and Country Club, Canton GA
North Metro Atlanta – Lake Arrowhead, Waleska GA
North Metro Atlanta – Hawks Ridge, Ballground GA
North Metro Atlanta – Towne Lake Hills, Woodstock GA
North Metro Atlanta – "Woodstock Downtown", Woodstock GA
North Metro Atlanta – Kingsley Estates, Alpharetta GA
North Metro Atlanta – Wedgewood, Alpharetta GA
North Metro Atlanta – Avensong, Milton GA
North Metro Atlanta – Blue Valley, Milton GA
North Metro Atlanta – The Highlands, Milton GA
North Metro Atlanta – The Manor Golf and Country Club, Milton GA
North Metro Atlanta – White Columns Country Club, Milton GA
Northeast Metro Atlanta – Hamilton Mill Golf Club, Daculs GA
Northeast Metro Atlanta – Riverbrooke, Duluth GA
Northeast Metro Atlanta – Sugarloaf Country Club, Duluth GA
Northeast Metro Atlanta – Country Club Of the South, John's Creek GA
Northeast Metro Atlanta – Spalding Mill, Peachtree Corners GA
Northeast Metro Atlanta – Chateau Elan, Milton GA
Northeast Metro Atlanta – Grandview, Suwanee GA
Northeast Metro Atlanta – Rivermoore Park, Suwanee GA
Northeast Metro Atlanta – River Laurel, Suwanee GA
North Georgia Mountains – Big Canoe, Jasper GA
North Georgia Mountains – Jordan's Crossing, Jasper GA
North Georgia Mountains – Riverstone, Jasper GA
North Georgia Mountains – Coosawattee River Resort, Ellijay GA
North Georgia Mountains – Blackberry Mountain, Ellijay GA
North Georgia Mountains – Bent Tree, Marble Hill GA
North Georgia Mountains – Arbor Hills, Talking Rock GA
Office Locations
---