Virtual SELLER'S Guide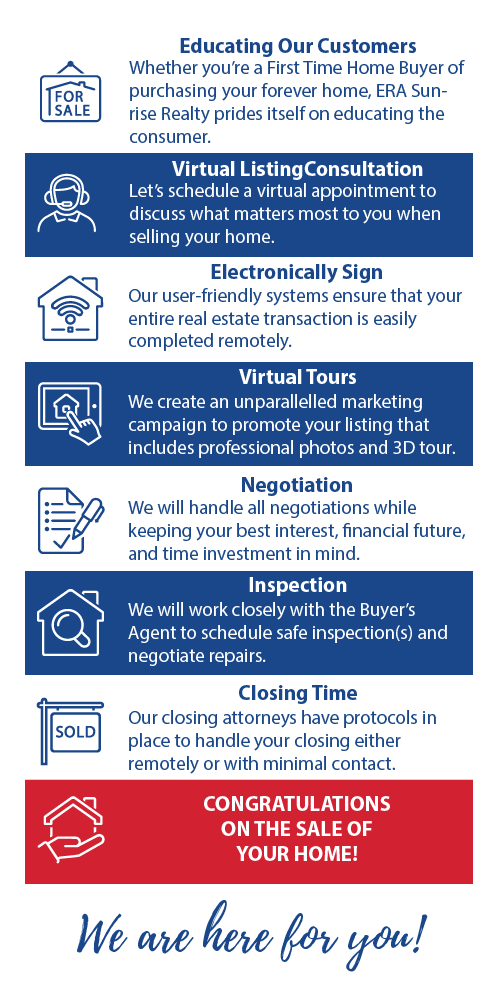 Ready to SELL your home but don't know how to start in THIS market?
---
ERA Sunrise Realty is aware of all the challenges recent events within the market present, and we have a plan that uses these circumstances an ADVANTAGE to help you sell your home now.
Get Started
CEO David Moody Speaks to Current Selling Opportunity
SELLERS
---
We know your time is valuable, so we'll cut to the chase. There are three great reasons why now could be the best possible time to sell your home.
Reason #1
Low Interest Rates = Higher Sales Prices
Real estate experts all agree that interest rates are at a historic low, giving your potential buyer more buying power. With more buying power, buyers may be positioned to offer more money for your home, enabling you to maximize your equity.
Reason #2
Low Inventory = Less Competition
Less competition means more eyes on your home, and more eyes on your home may translate to fewer days on the market.
Reason #3
Working From Home = More Time Online
Recent community initiatives like social distancing have created new opportunities to work from home, which means more people are engaging online on personal computers and devices during the work day. This is a unique opportunity to take advantage of increased online engagement to sell your home.
Find Out More
Here's How It Works:
---
1) SCHEDULE
Schedule your customized, virtual home marketing consultation with one of our agents to truly understand all of your options.
2) CONSULT
We present a custom proposal based on your needs and review the technology we will use to get your home sold at the highest price, in the least amount of time, and with the least hassle to you.

3) SELL
Once we establish your desired price and terms, we list your home on the open market, engage our marketing plan, and get your home sold. It's that simple.
Get Started