Sell your home in Greater Atlanta, Greater Augusta or Greater Athens and North Georgia

From setting the price to creating marketing campaigns for traditional media and Web, ERA Sunrise Realty is a team of local real estate experts with a proven plan that will match your home with the right buyers for the right price. We are committed to fast, professional and courteous personal service to help you understand and feel at ease throughout the home selling process. Our trained and certified REALTORS® specialize in the Greater Atlanta, Athens & North Georgia Mountains real estate markets and are prepared to sell your home to the right buyer for the best price.
Need to sell your home fast? Check this out…

IS THE ERA SELLERS SECURITY PLAN RIGHT FOR ME?
Do you have a set time frame in which you need to move?
Are you ready to get your property in the best position to sell?
Are you looking to buy new construction but don't have a solid plan to sell your current property?
Is retirement or an assisted living community in your future?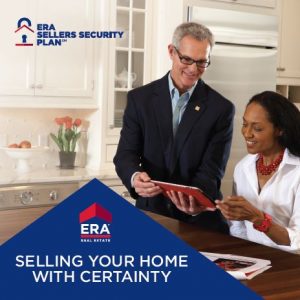 ERA® SELLERS SECURITY® PLAN takes the uncertainty out of selling your home.
The ERA® Sellers Security® Plan* gives qualified sellers, who are accepted into the plan, the assurance that your home will sell within a finite sales period.
If all program qualifications and requirements are met and your home doesn't sell by a set time, ERA Franchise Systems LLC will buy it from you.
Clear parameters for qualification.
Backed by ERA Franchise Systems LLC, a national real estate company.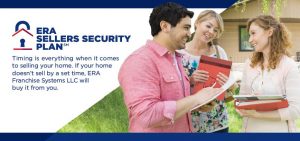 ERA® SELLERS SECURITY® PLAN – Here's what SSP brings to the table:
Assurance: You'll know up front what you will be paid for your home (between 80 and 90% of the appraised value). And you'll know when your home will sell.
Flexibility: SSP makes it easier to relocate for work or to move to a new home in a new development, a retirement community or an assisted living facility.
Plus, in addition to the contract to sell your home to ERA Franchise Systems LLC, your home is still on the market and if you receive another offer, you can accept it.
And you can opt-out of your listing agreement with your ERA broker within 21 days of being notified if you do not qualify for SSP.
Control: Knowing your home will sell puts you in a strong negotiating position for your next home purchase.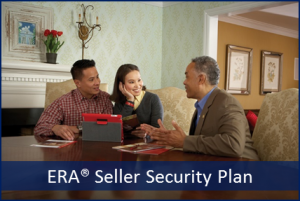 ERA® SELLERS SECURITY® PLAN – SSP qualifications include but are not limited to:
Must purchase your next home through an ERA-affiliated broker.
Have 10% equity in your home.
Be current on all mortgages and have no liens filed against the property.
Meet absorption rate criteria.
Be marketable: the home must not have location or structural concerns.
Enter into an exclusive listing contract for a predetermined amount of time with your ERA agent at a price that doesn't exceed any previous listing price.
Purchase a home inspection and home appraisal after your application to SSP is reviewed.
Agree to reduce the list price of your home at certain intervals during the finite selling period.
Home must have a minimum appraised value of $50,000. Homes valued in the top 10% of sales per prior 12-month MLS data or exceeding $750,000 do not qualify.
Refer to the ERA® Sellers Security® Plan Home Seller brochure and your ERA broker or agent for all program requirements.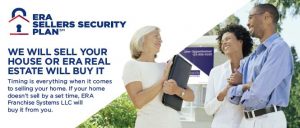 *Conditions and limitations apply; including but not limited to: seller and house must meet specific qualifications, and purchase price will be determined solely by ERA Franchise Systems LLC, based upon a discount of the home's appraised value. Additionally, a second home must be purchased through a broker within 6 months of the close date of the SSP property designated by ERA Franchise Systems LLC. Call your local participating ERA professional to review details. Not available in all areas.